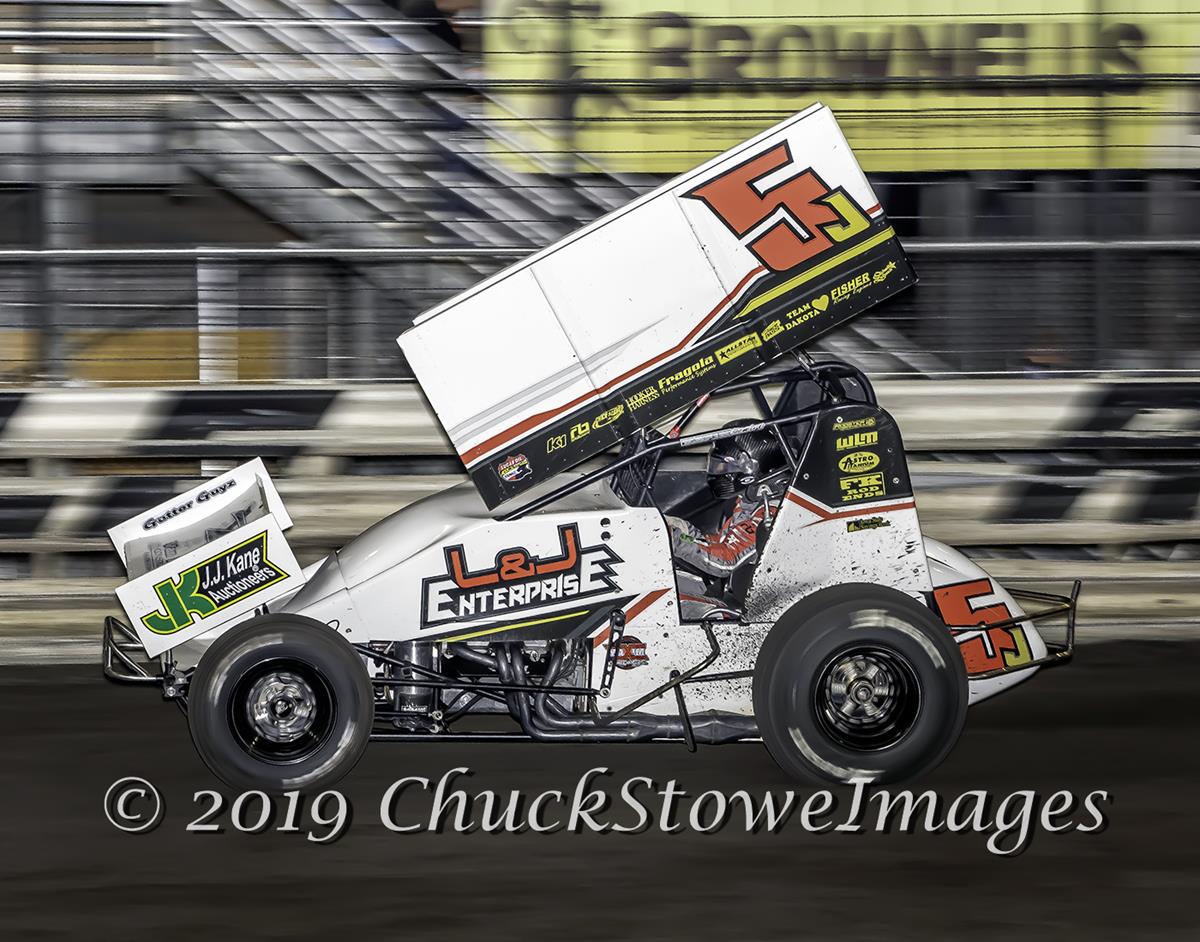 4/29/2019
Inside Line Promotions
---
Ball Caps Opening ASCS National Tour Weekend With Top 10 at U.S. 36 Raceway
(Photo by Chuck Stowe Images)
Inside Line Promotions – OSBORN, Mo. (April 29, 2019) – Jamie Ball produced a successful debut at a pair of high-banked bullrings last week to kick off the Lucas Oil ASCS National Tour season.
Ball led feature laps on Thursday at Eagle Raceway in Eagle, Neb., and he capped the doubleheader by earning a top-10 finish on Friday at U.S. 36 Raceway.
The action began on Thursday with Ball winning a heat race after starting on the outside of the front row.
"Overall we were fast from the drop of the first green flag," he said. "Hot laps went well and we were able to win the heat race. We were the top-point guy and made the feature redraw. Josh Hegwood drew the No. 1 for us so we had a lot of confidence going into the main."
Ball continued to run strong as he led the first six laps of the 30-lap main event.
"The feature started off great," he said. "The first five laps were probably the best five laps of my short-track career. I caught up to traffic and made some mistakes, which allowed (Matt) Covington to get around us on Lap 7. I was able to get back around him and led for a couple more laps before I hit a rut in turns three and four. That bicycled the car and allowed him to get back by. The car felt different from that point on and later we found a couple of damaged areas on the car that obviously affected the handling."
Ball, who led eight out of the first nine laps, held on to salvage a 13th-place result.
The White Lightning Motorsports team continued to show speed on Friday at U.S. 36 Raceway, where a third-place finish in a heat race lined Ball up on the outside of the sixth row for the main event.
"We drew decent again in the heat," he said. "There wasn't much passing in the heats and we had a tough heat. To be able to start near the front and finish up there gave us confidence. In the feature we wanted to race as hard as we could and move forward. We were focused on hitting our marks. We were satisfied by moving forward on a track that doesn't typically fit my style."
Ball gained a handful of positions on the tricky track to score an eighth-place result, which was his fifth top 10 in seven races this season.
He and the team are heading to Pennsylvania this weekend to compete on Friday at Williams Grove Speedway in Mechanicsburg and on Saturday at Selinsgrove Speedway in Selinsgrove with the Lucas Oil ASCS National Tour. If all goes well Ball tentatively plans on racing Sunday at BAPS Motor Speedway in York Haven, Pa.
"The No. 1 thing is I'm excited to get on some big tracks to be fast and smooth like I learned at Knoxville," he said. "The biggest factor is having Rob Hart on our team. He has won races all over and he can give me great advice to help us learn quicker."
QUICK RESULTS –
April 25 – Eagle Raceway in Eagle, Neb. – Heat race: 1 (2); Feature: 13 (1).
April 26 – U.S. 36 Raceway in Osborn, Mo. – Heat race: 3 (3); Feature: 8 (12).
SEASON STATS –
7 races, 0 wins, 2 top fives, 5 top 10s, 6 top 15s, 7 top 20s
UP NEXT –
Friday at Williams Grove Speedway in Mechanicsburg, Pa., and Saturday at Selinsgrove Speedway in Selinsgrove, Pa., with the Lucas Oil ASCS National Tour and Sunday at BAPS Motor Speedway in York Haven, Pa.
MEDIA LINKS –
Website: http://www.JamieBall.com
Twitter: http://www.twitter.com/JamieBall5j
APPAREL –
White Lightning Motorsports has t-shirts and hoodies available for purchase at their race trailers at each sprint car event they compete at throughout the season.
SPONSOR SPOTLIGHT – MyRacePass
MyRacePass (MRP) contains much of the racing content people are looking for. Tens of thousands of drivers, more than a thousand race tracks and race series, and more than a million race fans are included in the MyRacePass network. There are communication tools, management tools and promotional tools available for anyone to use. Bottom line – they make promotion and management much easier! For more information, visit http://www.MyRacePass.com.
"I've been utilizing MyRacePass's services since Day 1 when I started racing a sprint car," Ball said. "It's been great to watch them grow into the company they are today. They keep stepping up their program and doing more for their customers. They're the one-stop shop for all your website, hero cards and apparel needs. Josh, Ross, Zach and the team are some of the best people I've met throughout my racing career. I encourage everyone to download the MyRacePass app as well."
White Lightning Motorsports would also like to thank L&J Enterprise Inc, JJ Kane Auctioneers, Van Zante Construction, Timberline Tree Service, The Hearing Clinic, Iowa State Savings Bank, Chick Magnet Motorsports, FK Rod Ends, Fragola Performance Systems, Wingdance Graphics, Hooker Harness, Keizer Aluminum Wheels, The Joie of Seating, Tire Demon by Love Tap, Fisher Racing Engines, Maxim Chassis, Allstar Performance, Shell Shock, Outlaw Wings, Ryan Bowers Racing, K1 RaceGear and Astro Titanium for their continued support.
INSIDE LINE PROMOTIONS –
Inside Line Promotions specializes in affordable public relations and media management for motor sports drivers, teams, sponsors, tracks, series, events, organizations and manufacturers. ILP Founder Shawn Miller leverages professional journalism with new media technologies and social networking to improve your exposure and the return on investment for your sponsors.
To meet the media relations needs of your program by joining Team ILP, contact Shawn at 541-510-3663 or Shawn@InsideLinePromotions.com. For more information on Inside Line Promotions, visit http://www.InsideLinePromotions.com.
---
Article Credit: Inside Line Promotions
Submitted By: Shawn Miller
Back to News