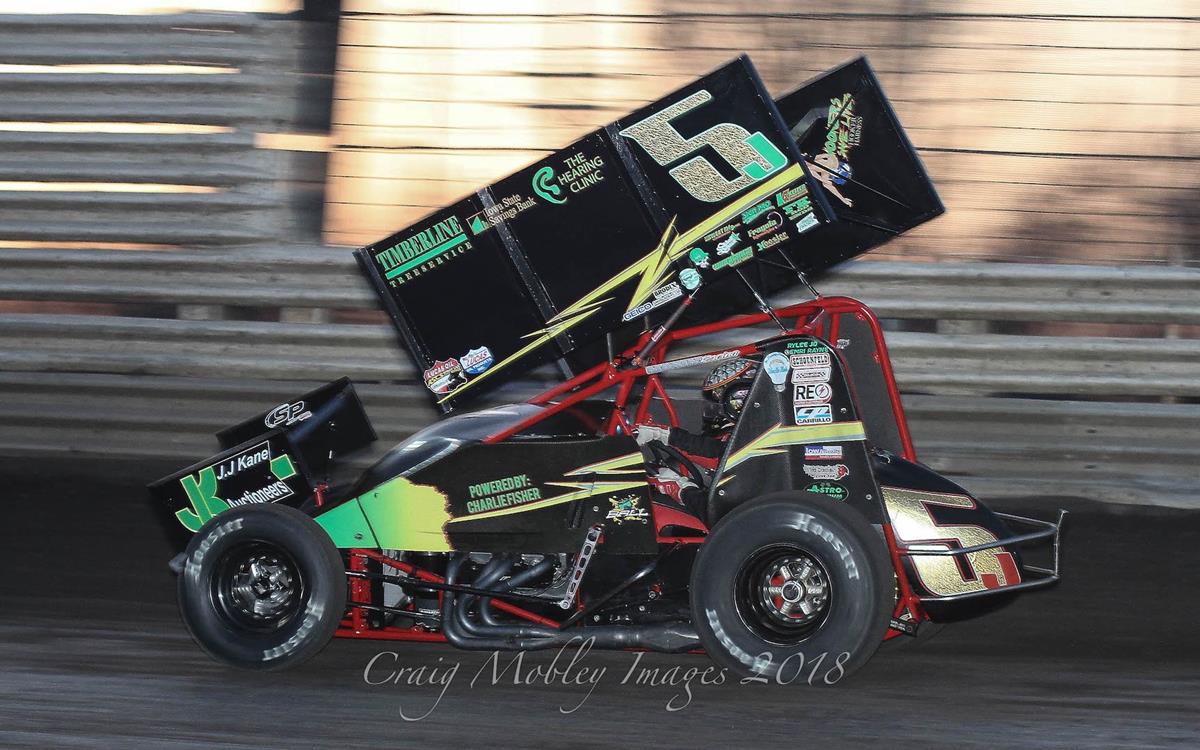 5/2/2018
Inside Line Promotions
---
Ball Hits Highs and Lows Throughout Three-Race Weekend
(Photo by Craig Mobley)
Inside Line Promotions – KNOXVILLE, Iowa (May 2, 2018) – Jamie Ball had a weekend of highs and lows as he competed with the Lucas Oil ASCS National Tour presented by SawBlade.com on Friday at Paducah International Raceway before returning home to Knoxville Raceway to pull double duty for the second straight week.
"The banking and the layout at Paducah has the potential to be one of the best tracks and races on the ASCS schedule," he said.
Ball hit a speed bump early Friday night in Paducah, Ky., with a bad draw for his heat race. The White Lightning Motorsports driver started from the inside of the fourth row, but was unable to finish the eight-lap heat race because of a loose fuel line. Ball was credited with a seventh-place finish.
"We didn't have too good of a draw for the heat race or a good heat race at all," he said. "We got rolling for the B Main and was able to transfer out for the fourth consecutive A Main."
Ball finished fifth in the B Main, which earned a transfer into the feature event. He maneuvered from 21st to a 14th-place result in the main event.
"The feature went decent and we made our way forward to the 14th spot," he said. "I feel like we had the speed to compete up front, we just need to do better at positioning ourselves toward the front starting spot of the features. But it was a decent rebound and we were able to lock ourselves into a tie for the seventh place points position with Roger Crockett and get in the tow money as we head to Williams Grove and Selinsgrove this weekend."
Ball competed in both the 360ci and 410ci sprint car classes last Saturday at Knoxville Raceway.
He qualified ninth quickest in the 360 class before charging from fourth to win a heat race, which lined him up on the inside of the second row for the A Main.
"We had high hopes for the feature with us starting third," Ball said. "I tried a slide job on (Clint) Garner to attempt to take the lead on the start, but just couldn't complete it and he got around us. It's fun racing with him. We respect each other. I settled back into third and hoped to make something happen, but it never did. Garner lost a motor with three laps to go, which put us in second and then I lost a motor on the white flag. It was a major blow up and it was a disappointing way to end another strong run."
Ball, who was credited with a 16th-place result in the 360 class, timed in sixth quickest in the 410 class. He then advanced from fifth to third place in a heat race before closing the night with a sixth-place result in the main event.
"With one night of double duty under my belt I felt confident going in and had higher expectations as we looked to rebound from our DNF the previous weekend while running inside the top five," he said. "One of the things I have struggled with in a 410 is the starts. I had a terrible start at the beginning of the feature, but settled in fourth or fifth. We have a few setup changes that I think we can make to help the car roll the cushion better, but we ended up sixth. My team and I are extremely happy with that result for our second time in a 410 at Knoxville."
Ball's next race will be with the Lucas Oil ASCS National Tour this Friday at Williams Grove Speedway in Mechanicsburg, Pa., and Saturday at Selinsgrove Speedway in Selinsgrove, Pa., during the Battle of the Groves.
"We will be picking up with the Lucas Oil ASCS National Tour as we all head east to the famed Williams Grove and Selinsgrove," Ball said. "I'm really excited to get to race at these famed tracks and I'm also looking forward to meeting all those special PA Posse fans. I've already had some great and welcoming interactions with some of them on Twitter. I think we should learn a lot and it should be a very fun weekend."
QUICK RESULTS –
April 27 – Paducah International Raceway in Paducah, Ky. – Heat race: 7 (7); B Main: 5 (11); Feature: 14 (21).
April 28 – Knoxville Raceway in Knoxville, Iowa (360 sprint car) – Qualifying: 9; Heat race: 1 (4); Feature: 16 (3).
April 28 – Knoxville Raceway in Knoxville Iowa (410 sprint car) – Qualifying: 6; Heat race: 3 (5); Feature: 6 (4).
SEASON STATS –
11 races, 1 win, 2 top fives, 4 top 10s, 6 top 15s, 10 top 20s
UP NEXT –
Friday at Williams Grove Speedway in Mechanicsburg, Pa., and Saturday at Selinsgrove Speedway in Selinsgrove, Pa., for the Battle of the Groves with the Lucas Oil ASCS National Tour presented by SawBlade.com
MEDIA LINKS –
Website: http://www.JamieBall.com
Twitter: http://www.twitter.com/JamieBall5j
APPAREL –
White Lightning Motorsports has t-shirts and hoodies available for purchase at their race trailers at each sprint car event they compete at throughout the season.
SPONSOR SPOTLIGHT – Keizer Aluminum Wheels
Keizer Aluminum Wheels has provided custom aluminum racing wheels for any type of racing application for several decades. For more information, visit http://www.KeizerWheels.com.
"From the start of White Lightning Motorsports in 2010 we have utilized Keizer Aluminum Wheels," Ball said. "They offer great quality products at affordable prices for racers of all types. Wade, Nate and the entire staff at Keizer have become close friends and we thank them for their continued support of everyone at WLM. Check out www.keizerwheels.com"
White Lightning Motorsports would also like to thank L&J Enterprise Inc, JJ Kane Auctioneers, Timberline Tree Service, The Hearing Clinic, Iowa State Savings Bank, Chick Magnet Motorsports, My Race Pass, FK Rod Ends, Fragola Performance Systems, Wingdance Graphics, Hooker Harness, The Joie of Seating, Tire Demon by Love Tap, Fisher Racing Engines, Maxim Chassis, All Star Performance, Shell Shock, Outlaw Wings, Ryan Bowers Racing, K1 and Astro Titanium for their continued support.
INSIDE LINE PROMOTIONS –
Inside Line Promotions specializes in affordable public relations and media management for motor sports drivers, teams, sponsors, tracks, series, events, organizations and manufacturers. ILP Founder Shawn Miller leverages professional journalism with new media technologies and social networking to improve your exposure and the return on investment for your sponsors.
To meet the media relations needs of your program by joining Team ILP, contact Shawn at 541-510-3663 or Shawn@InsideLinePromotions.com. For more information on Inside Line Promotions, visit http://www.InsideLinePromotions.com.
---
Article Credit: Inside Line Promotions
Submitted By: Shawn Miller
Back to News