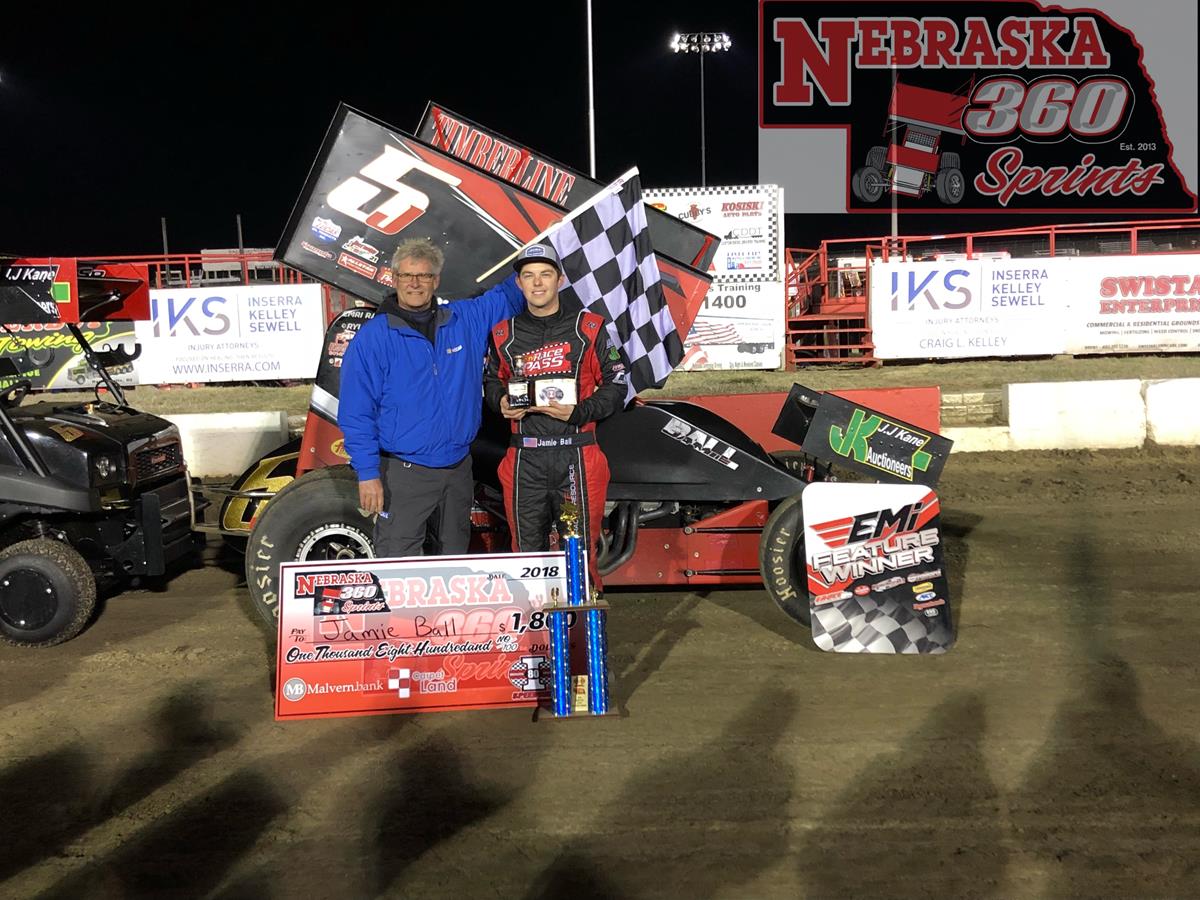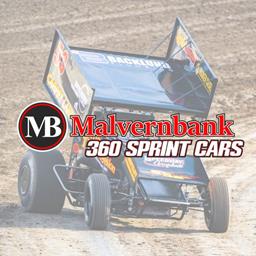 4/14/2018
Malvern Bank 360 Sprints
---
Jamie Ball Sizzles In Series Opener!
I-80 Speedway Greenwood, Nebraska (April 13, 2018)—The 2018 Carpletland Nebraska 360 Sprint Series presented by Malvern Bank began their season at the fast 4/10 mile facility at I-80 Speedway. This rescheduled race, from a prior week's washout, was moved to the Friday portion of the "Bugeater Bash', with $1800 going to the winner. A $7000 points fund is on the line for the 6 races held at I-80 Speedway this year, with the fund paying out 7 places and the top driver getting $2500.
Jamie Ball from Knoxville, Iowa was on the ball tonight as his car was dialed in from start to finish. He lead every lap of the A feature after starting on the pole.
"We had a great car from start to finish. We got out into hot laps and it just seemed too easy. The 3 races we've ran with the Lucas Oil ASCS Series, is the reason we won tonight. We struggled with intensity a little bit and to go to the top here at I-80, but the national tour guys have shown me that you have to go as hard as you can from start to finish and it's just nice to get the win. At Knoxville, I've typically been the guy that likes running the bottom a little bit but the cushion has been the way to go for me. I've been more consistent and faster up there and tonight I was just good from start to finish and I'm just glad to get the win."
Jamie currently sits 9th in the Lucas Oil ASCS Sprint Car Series points. He is also in contention for rookie of the year as he has decided to join the tour as a full-time driver in 2018.
Jamie Ball and Jason Martin made up the front row of tonights A main event. Jamie Ball got a great start as the green flag flew to take a 5 car lead on Martin after 2 laps. Third running, Jordan Boston, was on the tail of second running Martin as Ball extended his lead to half a straightaway on lap 5.
Jamie Ball continued his lead midway through the feature by a full straightaway over 2nd running Martin. After 15 laps, Jamie Ball was first followed by Jason Martin, Jordan Boston, Ryan Roberts, and Don Droud Jr. Cody Ledger made his way to the infield with a mechanical issue.
Jason Martin, who was three-tenths of a second faster than leader Jamie Ball with 7 laps togo, began closing in on Ball but time was running out as lap traffic played a significant part on Martin getting to the lead. Jamie Ball was able to hold on for the win followed by Jason Martin, Jordan Boston, Don Droud, Jr., and Ryan Roberts. Roberts also had a motor expire as he came out of turn four to take the finish.
Heat Race #1 (Results)
Jamie Ball
Jason Martin
Don Droud, Jr.
Shayle Bade
Cody Ledger
Chris Martin
Joey Danley
Taylor Forbes
Heat Race #2 (Results)
Seth Brahmer
Ryan Roberts
Mason Daniel
Jordan Boston
Stuart Snyder
Blain Petersen
Jack Dover
A Feature Finish (25 Laps)
Jamie Ball
Jason Martin
Jordan Boston
Don Droud, Jr.
Ryan Roberts
Jack Dover
Stuart Snyder
Chris Martin
Seth Brahmer
Shayle Bade
Mason Daniel
Joey Danley
Cody Ledger
Taylor Forbes
Blaine Petersen
Contingency Awards
Electrical Systems Inc $300 Podium Draw- Jason Martin
Speedway Motor $200 Hard Charger Certificate- Jack Dover
Points (Top 10)
Pos Driver Points Gap
1 Jamie Ball 150 -
2 Jason Martin 142 8
3 Jordan Boston 135 15
4 Don Droud, Jr. 130 20
5 Ryan Roberts 125 25
6 Jack Dover 122 28
7 Stuart Snyder 119 31
8 Chris Martin 116 34
9 Seth Brahmer 113 37
10 Shayle Bade 110 40
Next up is the Pepsi South Dakota Sprint Car Nationals at Park Jefferson International Speedway in Jefferson, South Dakota on April 27-28. The Friday format will see drivers run a full round of heat races in round 1. Round 2 of heat races will see a complete invert of the finishing order of the heat races. The top 16 spots, based on accumulated passing points, will lock themselves into Saturday's main event. The $10,000 to win and $700 to start event, will also have a payout for the heat races. The Saturday show will have twin consolation races to set the final 8 starting spots in the 24 car, 35 lap, main event.
Stay updated on all of our news and schedule by visiting www.nebraska360sprintseries.com or for live results, visit us on our Facebook page at Ne360sprint.
---
Article Credit: Travis Johnson
Submitted By: Travis Johnson
Article Media
Back to News