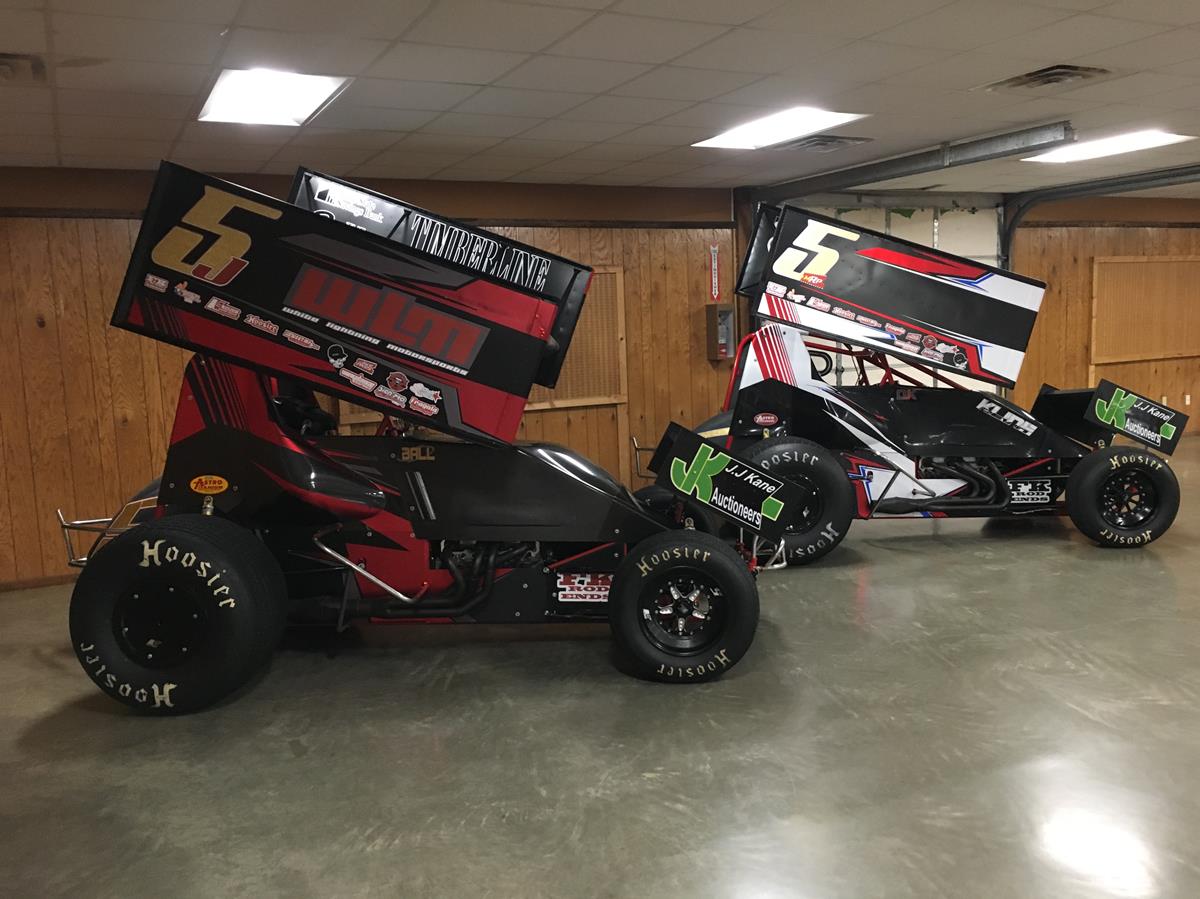 4/11/2017
Inside Line Promotions
---
Ball Records First Podium Finish of Season at I-80 Speedway, Knoxville Opener Looms
Inside Line Promotions – GREENWOOD, Neb. (April 11, 2017) – Jamie Ball capped the Bug Eater Bash by earning his first podium finish of the season last Saturday at I-80 Speedway.
The Carpet Land Nebraska 360 Sprints doubleheader began on Friday, when Ball finished second in a heat race after starting on the pole.
"We started off the night great with a low pill draw," he said. "We were fast and led every lap of the heat race except the last two corners. That caused us to miss the redraw and start midpack for the feature."
The White Lightning Motorsports driver lined up on the outside of the sixth row in the A Main. Ball maneuvered his way into the top 10 before a driver error caused him to almost spin out and make contact with the guardrail, which ultimately sent him to the rear of the field. With several laps remaining, Ball rallied to salvage a 15th-place finish.
"We made some changes and the car was rolling the bottom nice," he said. "My driver error and spin made for a disappointing night, but we learned a lot going forward for the second night."
Ball rounded out the event on Saturday by winning a heat race to earn enough points to make the feature redraw.
"Again, we were able to draw a front row starting spot," he said. "We got out front and led every lap of the heat race and earned a spot in the redraw. We were very confident going into the feature."
Ball drew the third starting spot, which is where he remained throughout the feature to score his first podium finish of the season.
"We were running the bottom and maintaining our position," he said. "I saw (Thomas) Kennedy Jr. pass us on the top and I knew I needed to move up and find a faster line. The cushion was right at the wall, so we were able to utilize that and a couple other line combinations to get past (Clint) Garner and cruise to a podium.
"That's the best finish we have ever had at I-80 Speedway. It really boosted our team morale and gives us a lot of confidence heading into the season opener at Knoxville Raceway."
Both White Lightning Motorsports drivers, Ball and Devin Kline, are slated to be in action at their home track of Knoxville Raceway in Knoxville, Iowa, this Saturday during the track's season opener.
"This is the most excited and prepared we have ever been entering a season at Knoxville Raceway," Ball said. "The team has every necessary piece assembled to contend for a Knoxville driver/owner championship, from upgrading our Fisher Racing Engine package to a supportive team who is ready to have a great season."
Kline is moving up to the 360ci sprint car class after spending the last couple of seasons in the 305 division.
"I'm very excited and anxious, but more looking forward to racing with guys who have a lot of experience," he said. "That'll help my driving style and make me a better driver. We've got a lot of laps around Knoxville, so we just have to do what we do and make each time we go out there our best. Our goal is to receive the Rookie of the Year honors and contend for a top-10 finish in points standings this year."
QUICK RESULTS –
April 7 – I-80 Speedway in Greenwood, Neb. – Heat race: 2 (1); Feature: 15 (12).
April 8 – I-80 Speedway in Greenwood, Neb. – Heat race: 1 (2); Feature: 3 (3).
SEASON STATS –
3 races, 0 wins, 1 top five, 2 top 10s, 3 top 15s, 3 top 20s
UP NEXT –
Saturday at Knoxville Raceway in Knoxville, Iowa
MEDIA LINKS –
Jamie Ball Website: http://www.JamieBall.com
Devin Kline Website: http://www.DevinKline.com
Jamie Ball Twitter: http://www.twitter.com/JamieBall5j
Devin Kline Twitter: http://www.twitter.com/DevinKline5j
APPAREL –
White Lightning Motorsports has t-shirts and hoodies available for purchase at their race trailers in the infield of each sprint car event at Knoxville Raceway in Knoxville, Iowa.
SPONSOR SPOTLIGHT – Wingdance Graphics
Wingdance Graphics is your one-stop shop for all your graphics needs, the kind of people who dream up the impossible and then bring that vision to reality. As a well-established business of designers and applicators, they have built the capacity to develop all clients need to enhance their business – everything from race car graphics, banners, wraps, signs, decorative items and much more. While they take great pride in designing to meet your needs, their top priority is to partner with their clients to enhance their team or businesses image. Ultimately, they're not just designers, they are partners in building your future.
"Brandon Dunkerson of Wingdance Graphics and Sign Pro of Newton, Iowa, has been with our race team for the past four years," Ball said. "Brandon shares a passion for sprint car racing and it has been a pleasure having him on White Lightning Motorsports. The creative design and customer service work is what is propelling Brandon to the top in a hurry. Top notch designs that are prepared and applied in a timely fashion. For all of your graphics needs please give Brandon a call at (319) 541-1822."
White Lightning Motorsports would also like to thank Housby, JJ Kane Auctioneers, Timber Line Tree Service, The Hearing Clinic, Iowa State Savings Bank, Ostrich Racing Engines, FK Rod Ends, Hooker Harness, MyRacePass, Sweet Manufacturing, Keizer Aluminum Wheels, Fragola Performance Systems, Hoosier Tire, MPD Racing, Bell Helmets, Sign Pro of Newton, Shell Shock, Maxim Chassis, Hinchman Racewear, Knoxville Raceway Charitable Organization (KRCO) and Allen Construction for their continued support.
INSIDE LINE PROMOTIONS –
Inside Line Promotions specializes in affordable public relations and media management for motor sports drivers, teams, sponsors, tracks, series, events, organizations and manufacturers. ILP Founder Shawn Miller leverages professional journalism with new media technologies and social networking to improve your exposure and the return on investment for your sponsors.
To meet the media relations needs of your program by joining Team ILP, contact Shawn at 541-510-3663 or Shawn@InsideLinePromotions.com. For more information on Inside Line Promotions, visit http://www.InsideLinePromotions.com.
---
Article Credit: Inside Line Promotions
Submitted By: Shawn Miller
Back to News