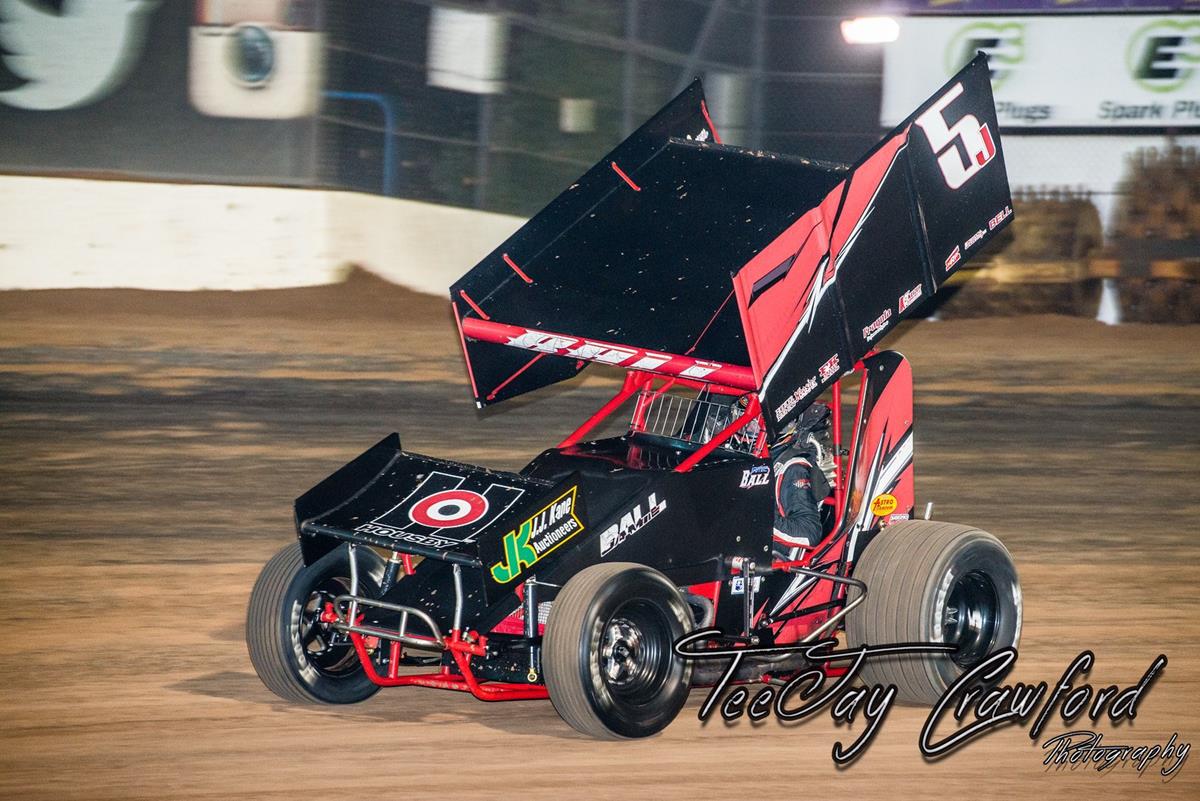 11/23/2016
Inside Line Promotions
---
White Lightning Motorsports Captures Five Wins During 2016 Season
(Photo by TeeJay Crawford)
Inside Line Promotions – KNOXVILLE, Iowa (Nov. 23, 2016) – White Lightning Motorsports drivers Jamie Ball and Devin Kline combined to capture five wins this season at the 'Sprint Car Capital of the World.'
"As we wrap up the 2016 season we have a lot of good memories and accomplishments," Ball said.
Ball competed in the 360ci sprint car division at Knoxville Raceway. He also traveled to various races with the Lucas Oil ASCS National Tour and tackled his first Short Track Nationals at I-30 Speedway in Little Rock, Ark., this season.
"We traveled a lot with the Lucas Oil ASCS National Tour and around the country and learned quite a bit that we cannot wait to build on for 2017," he said.
Ball earned his first win of the season at Knoxville Raceway midway through the season. He went on to capture a second victory at the half-mile oval in August during an Arnold Motor Supply 360 Knoxville Nationals preliminary night, which helped advance him into a starting spot in the finale. Ball ended the weekend with a 13th-place finish – the best of his career during the 360 Knoxville Nationals.
"The top accomplishment, without a doubt, has to be our first-ever 360 Knoxville Nationals preliminary victory over some of the best in the business," Ball said. "We would also go onto lock into our third consecutive 360 Nationals A Main and finished with our best result in the event."
Kline also produced several spectacular moments while racing in the 305ci sprint car class at Knoxville Raceway along with a couple 360 races at various tracks. He captured three wins at the big track as well as 12 top fives.
Additionally, White Lightning Motorsports claimed various awards from Knoxville Raceway at the end of the season, including: second place in the 305 driver and owner standings, sixth place in the 360 driver standings and third place in the 360 owner points with special thanks to Seth Bergman.
Ball was also awarded the Knoxville Raceway 360 Sportsman of the Year Award.
"At the Knoxville Raceway banquet drivers were awarded with insurance and Simpson product vouchers from the Knoxville Raceway Charitable Organization," he said. "We really appreciate what the KRCO does for all of us drivers and our families.
"None of this would be possible without the support from my wife, Sadi, my mom and dad, Jody and Josh Hegwood, Devin Kline, Caleb Walker, Dwight LaFollette and Brandon Dunkerson. We will now go into preparation for the upcoming season with adding a second White Lightning Motorsports 360 sprint car with Devin behind the wheel."
Both Kline and Ball will compete in 360 action across the Midwest next season with Ball continuing to travel as often as possible.
SEASON STATS –
JAMIE BALL: 31 races, 2 wins, 12 top fives, 22 top 10s, 24 top 15s, 28 top 20s
DEVIN KLINE: 17 races, 3 wins, 12 top fives, 13 top 10s, 15 top 15s, 16 top 20s
MEDIA LINKS –
Jamie Ball Website: http://www.JamieBall.com
Devin Kline Website: http://www.DevinKline.com
Jamie Ball Twitter: http://www.twitter.com/JamieBall5j
Devin Kline Twitter: http://www.twitter.com/DevinKline5j
APPAREL –
White Lightning Motorsports has t-shirts and hoodies available for purchase at their race trailers in the infield of each sprint car event at Knoxville Raceway in Knoxville, Iowa.
SPONSOR SPOTLIGHT – Timber Line Tree Service
Timber Line Tree Service of Des Moines, Iowa, has more than 20 years of experience in providing commercial and residential tree and shrub services of the highest quality. Since 1998, the business has been helping customers in achieving their goals. Whether it's a big or a small project, Timber Line Tree Service can handle it for you. With its indisputable reputation and commitment to excellence, Timber Line Tree Service guarantees your satisfaction. For more information, visit http://www.TreeServiceDesMoines.com.
"Brian and the Timber Line crew have been big supporters of ours since the beginning of my career," Ball said. "These guys do great work and they do it fast and at an affordable price. They are a fully insured tree removal business that services Des Moines, Iowa, and surrounding areas. Need trees or brush removed? Give Brian a call at 515-505-3043."
White Lightning Motorsports would also like to thank Housby, JJ Kane Auctioneers, The Hearing Clinic, Wingdance Graphics, Iowa State Savings Bank, Ostrich Racing Engines, Sweet Manufacturing, FK Rod Ends, Hooker Harness, MyRacePass, Bell Helmets, Keizer Aluminum Wheels, Fragola Performance Systems, Hoosier Tire, MPD Racing, Sign Pro of Newton, Shell Shock, Maxim Chassis, Hinchman Racewear, Knoxville Raceway Charitable Organization (KRCO) and Allen Construction for their continued support.
INSIDE LINE PROMOTIONS –
Inside Line Promotions specializes in affordable public relations and media management for motor sports drivers, teams, sponsors, tracks, series, events, organizations and manufacturers. ILP Founder Shawn Miller leverages professional journalism with new media technologies and social networking to improve your exposure and the return on investment for your sponsors.
To meet the media relations needs of your program by joining Team ILP, contact Shawn at 541-510-3663 or Shawn@InsideLinePromotions.com. For more information on Inside Line Promotions, visit http://www.InsideLinePromotions.com.
---
Article Credit: Inside Line Promotions
Submitted By: Shawn Miller
Back to News