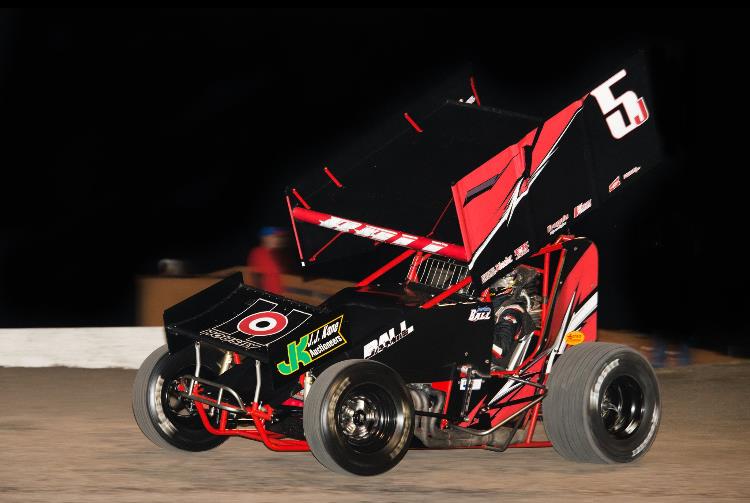 10/19/2016
Inside Line Promotions
---
Ball Captures Winter Nationals Heat Race Win During Devil's Bowl Debut
(Photo by TeeJay Crawford)
Inside Line Promotions – MESQUITE, Texas (Oct. 19, 2016) – Jamie Ball faced off against nearly 50 other competitors last weekend as he invaded Devil's Bowl Speedway for the Winter Nationals for the first time in his career.
"This was our first time to Devil's Bowl Speedway and wow, what a unique track it is," he said.
Ball opened the two-day Lucas Oil ASCS National Tour show with the luck of the draw on his side as he started on the pole of a heat race. Ball finished third, which advanced the White Lightning Motorsports driver into a qualifier.
Ball started eighth in the qualifier and ultimately finished ninth. He had one more chance to make it into the first A Main of the weekend. Ball took the green flag in the fifth position in a B Main and he was able to advance to the fourth position, resulting only one position shy of a transfer.
"With one night of track time under our belt we felt more confident going into the second night of Winter Nationals," he said.
Ball closed out the weekend with a heat race win on Saturday. That advanced him into a qualifier, in which he ended eighth.
"We were able to win our heat race over an ASCS National Tour regular by 2.5 seconds, which gave us some momentum going into the qualifier," he said. "During the qualifier we had charged up to fourth, but some driver mistakes relegated us back to eighth, so we missed locking ourselves in."
Ball started a B Main from third, but he was unable to hang on to a transfer position as he finished sixth.
"We lined up on the inside of the second row for the B Main, but the track was so slick and difficult to pass on," he said. "Devil's Bowl Speedway was another new track that we learned a lot from. It had its own set of challenges that we had yet to face this year. We keep telling ourselves that racing with the level of competition that the ASCS National Tour provides will only make us better in the future."
Ball and the White Lightning Motorsports team are slated to take this weekend off in order to prepare for Short Track Nationals at I-30 Speedway in Little Rock, Ark., Nov. 3-5.
"We are excited to have a couple weeks off to prepare for Short Track Nationals and to announce that Ricky Logan will be driving our second team car there as well," Ball said. "We feel like we have a solid base going into Short Track Nationals and putting Ricky behind the wheel of the secondary car will only make both him and I stronger for the event."
QUICK RESULTS –
Oct. 14 – Devil's Bowl Speedway in Mesquite, Texas – Heat race: 3 (1); Qualifier: 9 (8); B Main: 4 (5).
Oct. 15 – Devil's Bowl Speedway in Mesquite, Texas – Heat race: 1 (2); Qualifier: 8 (5); B Main: 6 (3).
SEASON STATS –
JAMIE BALL: 38 races, 2 wins, 12 top fives, 22 top 10s, 24 top 15s, 28 top 20s
UP NEXT –
Nov. 3-5 at I-30 Speedway in Little Rock, Ark., for the 29th annual COMP Cams Short Track Nationals presented by Hoosier Tires
MEDIA LINKS –
Jamie Ball Website: http://www.JamieBall.com
Devin Kline Website: http://www.DevinKline.com
Jamie Ball Twitter: http://www.twitter.com/JamieBall5j
Devin Kline Twitter: http://www.twitter.com/DevinKline5j
APPAREL –
White Lightning Motorsports has t-shirts and hoodies available for purchase at their race trailers in the infield of each sprint car event at Knoxville Raceway in Knoxville, Iowa.
SPONSOR SPOTLIGHT – Allen Construction
Allen Construction specializes in siding for new and remodeled construction in the Des Moines, Iowa, area.
"I'm excited and thankful for the opportunity to work with Allen Construction," Kline said. "A special thanks goes to Matt Allen for his support for me and the race team."
White Lightning Motorsports would also like to thank Housby, JJ Kane Auctioneers, Timber Line Tree Service, The Hearing Clinic, Wingdance Graphics, Iowa State Savings Bank, Ostrich Racing Engines, Sweet Manufacturing, FK Rod Ends, Hooker Harness, MyRacePass, Bell Helmets, Keizer Aluminum Wheels, Fragola Performance Systems, Hoosier Tire, MPD Racing, Sign Pro of Newton, Shell Shock, Maxim Chassis, Hinchman Racewear, Knoxville Raceway Charitable Organization (KRCO) and Allen Construction for their continued support.
INSIDE LINE PROMOTIONS –
Inside Line Promotions specializes in affordable public relations and media management for motor sports drivers, teams, sponsors, tracks, series, events, organizations and manufacturers. ILP Founder Shawn Miller leverages professional journalism with new media technologies and social networking to improve your exposure and the return on investment for your sponsors.
To meet the media relations needs of your program by joining Team ILP, contact Shawn at 541-510-3663 or Shawn@InsideLinePromotions.com. For more information on Inside Line Promotions, visit http://www.InsideLinePromotions.com.
---
Article Credit: Inside Line Promotions
Submitted By: Shawn Miller
Back to News