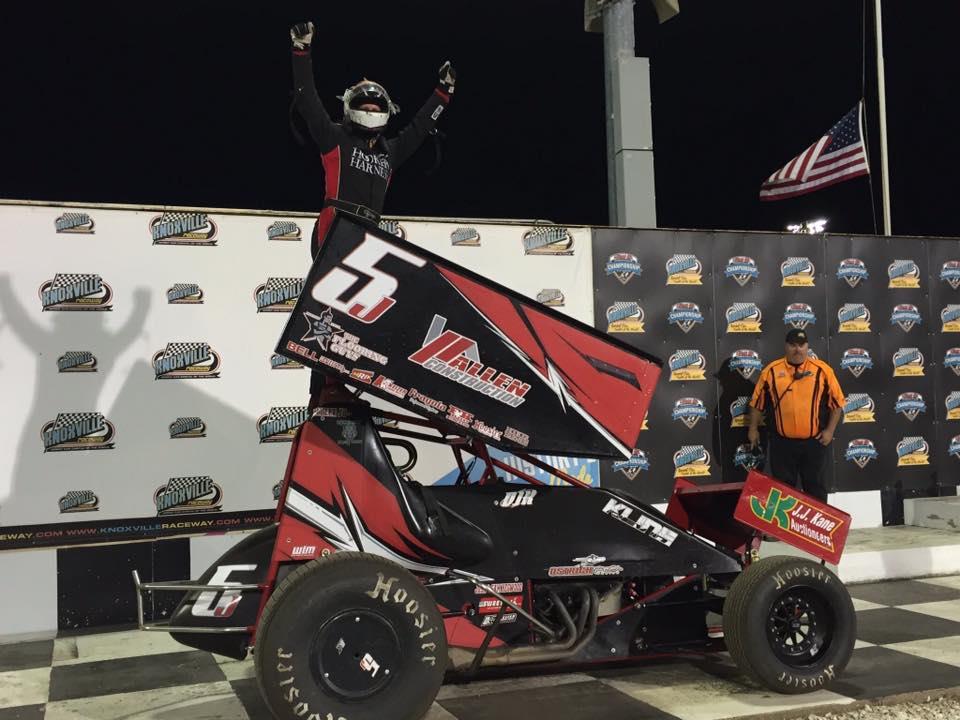 7/12/2016
Inside Line Promotions
---
Kline Makes Late Pass to Become All-Time Leader in 305ci Wins at Knoxville
(Photo by Derek Cardwell)
Inside Line Promotions – KNOXVILLE, Iowa (July 12, 2016) – Devin Kline charged to his second triumph of the season last Saturday at Knoxville Raceway, where the victory made him the leader in career 305ci sprint car wins with nine.
"The goal was to win one race," he said. "To have this accomplishment is pretty surreal and I feel very thankful for every opportunity I've been given."
Kline and the White Lightning Motorsports team opened the night by qualifying second quickest.
"Larry (Ball Jr.) made some changes on the car for the heat race and I didn't feel great," he said. "To come up through like we did and not liking the car I was looking forward to the feature going back to what we knew. We made some shock changes and that was something we've been looking for all year long."
Kline, who won his heat race after starting sixth, lined up on the inside of the third row for the main event.
"We started to roll up through there," he said. "I got up to second within about five laps or so. I knew we were rolling pretty good. I came out of turn two and I could see how far out Rager (Phillips) was. He was going into turn three. I thought there's not enough laps left. I kept trying to hit my marks and the next thing I know we were right there. Every time we'd come down the frontstretch I kept saying, 'Don't throw the white flag. Don't throw the white flag.'"
Kline took the lead in the closing laps and he held on during a green-white-checkered finish for the trip into Victory Lane.
Teammate Jamie Ball had a strong start to his night in the 360ci class.
"It started off the best of the year getting our first quick time," he said. "Our car was perfect. I think we have our qualifying dialed back in like we used to."
Ball established quick time during qualifying before advancing from sixth to third place in a heat race. He lined up on the outside of the third row for the feature.
"The track slicked off pretty good and we missed the setup a little bit," he said. "The bottom was narrow. We maintained where we started for most of the race. At the end Tony Shilling got me at off turn four for sixth."
Ball closed with a seventh-place finish, which was his 13th top 10 in 17 races this season.
Both Kline and Ball will return to Knoxville Raceway this Saturday.
QUICK RESULTS –
JAMIE BALL:
July 9 – Knoxville Raceway in Knoxville, Iowa – Qualifying: 1; Heat race: 3 (6); Feature: 7 (6).
DEVIN KLINE:
July 9 – Knoxville Raceway in Knoxville, Iowa – Qualifying: 2; Heat race: 1 (6); Feature: 1 (5).
SEASON STATS –
JAMIE BALL: 17 races, 1 win, 8 top fives, 13 top 10s, 13 top 15s, 16 top 20s
DEVIN KLINE: 11 races, 2 wins, 8 top fives, 9 top 10s, 10 top 15s, 11 top 20s
UP NEXT –
Saturday at Knoxville Raceway in Knoxville, Iowa
MEDIA LINKS –
Jamie Ball Website: http://www.JamieBall.com
Devin Kline Website: http://www.DevinKline.com
Jamie Ball Twitter: http://www.twitter.com/JamieBall5j
Devin Kline Twitter: http://www.twitter.com/DevinKline5j
APPAREL –
White Lightning Motorsports has t-shirts and hoodies available for purchase at their race trailers in the infield of each sprint car event at Knoxville Raceway in Knoxville, Iowa.
SPONSOR SPOTLIGHT – Wingdance Graphics
Wingdance Graphics is your one-stop shop for all your graphics needs, the kind of people who dream up the impossible and then bring that vision to reality. As a well-established business of designers and applicators, they have built the capacity to develop all clients need to enhance their business – everything from race car graphics, banners, wraps, signs, decorative items and much more. While they take great pride in designing to meet your needs, their top priority is to partner with their clients to enhance their team or businesses image. Ultimately, they're not just designers, they are partners in building your future.
"Brandon Dunkerson of Wingdance Graphics and Sign Pro of Newton, Iowa, has been with our race team for the past four years," Ball said. "Brandon shares a passion for sprint car racing and it has been a pleasure having him on White Lightning Motorsports. The creative design and customer service work is what is propelling Brandon to the top in a hurry. Top notch designs that are prepared and applied in a timely fashion. For all of your graphics needs please give Brandon a call at (319) 541-1822."
White Lightning Motorsports would also like to thank Housby, JJ Kane Auctioneers, Timber Line Tree Service, The Hearing Clinic, Iowa State Savings Bank, Ostrich Racing Engines, FK Rod Ends, Hooker Harness, MyRacePass, Sweet Manufacturing, Keizer Aluminum Wheels, Fragola Performance Systems, Hoosier Tire, MPD Racing, Bell Helmets, Sign Pro of Newton, Shell Shock, Maxim Chassis, Hinchman Racewear, Knoxville Raceway Charitable Organization (KRCO) and Allen Construction for their continued support.
INSIDE LINE PROMOTIONS –
Inside Line Promotions specializes in affordable public relations and media management for motor sports drivers, teams, sponsors, tracks, series, events, organizations and manufacturers. ILP Founder Shawn Miller leverages professional journalism with new media technologies and social networking to improve your exposure and the return on investment for your sponsors.
To meet the media relations needs of your program by joining Team ILP, contact Shawn at 541-510-3663 or Shawn@InsideLinePromotions.com. For more information on Inside Line Promotions, visit http://www.InsideLinePromotions.com.
---
Article Credit: Inside Line Promotions
Submitted By: Shawn Miller
Back to News