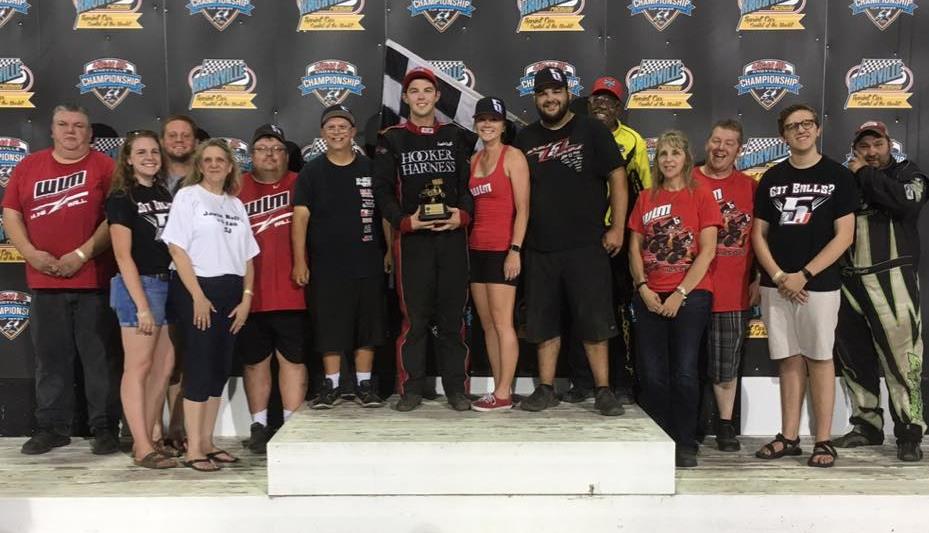 6/28/2016
Inside Line Promotions
---
Ball Dominates for First Knoxville Win Since 2014 and Kline Nets Another Top Five
Inside Line Promotions – KNOXVILLE, Iowa (June 28, 2016) – Jamie Ball scored his first win of the season last Saturday when he led the distance of the 360ci sprint car feature at Knoxville Raceway.
It was the first win at the famed half-mile oval since 2014 for the White Lightning Motorsports driver.
"The car has been really good all year," he said. "We just needed things to fall our way. Everything went our way for once on Saturday."
Ball opened the night by qualifying sixth quickest before he charged from fourth to win a heat race.
"Once again we had a solid qualifying effort," he said. "We've been racing real well in the heat races this year. I was able to get the lead about halfway through and win that for our second heat win of the year."
An eight-car feature inversion lined Ball up on the inside of the second row for the main event.
"The guys had the car on a rail," he said. "It was very maneuverable. I was able to get the lead off turn four on the opening lap and lead every lap."
Ball's victory capped a strong night for White Lightning Motorsports as teammate Devin Kline recorded his sixth top five of the season in the 305ci class.
Kline timed in second quickest during qualifying and he powered from sixth to third place in a heat race. The feature inversion lined him up on the inside of the fourth row.
"The first half of the race between the car and some people I was racing we didn't make a lot of progress," he said. "About halfway through the race we started reeling people in. When cars are plugging up the bottom the 305 doesn't have the motor to run up top as well. We had to go up there and it took a few laps to make some passes. By the time we got clear track we ran out of laps. But overall we advanced every time we were on the track."
Kline ended with a fourth-place result.
He will return to competition at Knoxville Raceway this Friday and Ball will be in action at the half-mile oval on Saturday.
Additionally, WLM would like to congratulate 6-year-old second-generation driver Clayton Vanderploeg on his first career restricted box stock feature victory at English Creek Speedway last weekend. He is the son of former sprint car driver Eric Vanderploeg. WLM is looking to give back to the younger generation of racers at English Creek Speedway and will be starting with supporting Clayton. Look for Clayton to be flying the WLM red and black colors and design along with a No. 57J. WLM wishes the best of luck for the rest of the 2016 season to Clayton and his crew.
QUICK RESULTS –
JAMIE BALL:
June 25 – Knoxville Raceway in Knoxville, Iowa – Qualifying: 6; Heat race: 1 (4); Feature: 1 (3).
DEVIN KLINE:
June 25 – Knoxville Raceway in Knoxville, Iowa – Qualifying: 2; Heat race: 3 (6); Feature: 4 (7).
SEASON STATS –
JAMIE BALL: 16 races, 1 win, 8 top fives, 12 top 10s, 12 top 15s, 15 top 20s
DEVIN KLINE: 9 races, 1 win, 6 top fives, 7 top 10s, 8 top 15s, 9 top 20s
UP NEXT –
Friday (Kline) and Saturday (Ball) at Knoxville Raceway in Knoxville, Iowa
MEDIA LINKS –
Jamie Ball Website: http://www.JamieBall.com
Devin Kline Website: http://www.DevinKline.com
Jamie Ball Twitter: http://www.twitter.com/JamieBall5j
Devin Kline Twitter: http://www.twitter.com/DevinKline5j
APPAREL –
White Lightning Motorsports has t-shirts and hoodies available for purchase at their race trailers in the infield of each sprint car event at Knoxville Raceway in Knoxville, Iowa.
SPONSOR SPOTLIGHT – The Hearing Clinic
Hearing evaluations shouldn't be scary, confusing or high-pressure sales pitches. That's why we opened The Hearing Clinic, where patient care is the priority. We're not big and impersonal; we're a locally owned, comprehensive Audiology practice that's more concerned with service than pushing products. When you visit The Hearing Clinic, Dr. Sara Michael, Audiologist will take time to listen to your concerns, educate you about hearing health, and work with you to find the best solution for your individual needs and budget. We Listen, You hear. For more information, visit http://www.TheHearingClinic-DSM.com.
"Sara, Bryan and Cooper have been great supporters of our race team for years," Ball said. "They have been providing our race team with custom-made ear molds for our raceceivers as well as providing Larry Ball Jr. with hearing aids the past few years. We love having The Hearing Clinic onboard again this year with White Lightning Motorsports. It's family owned companies like them that help make our race team such a success."
White Lightning Motorsports would also like to thank Housby, JJ Kane Auctioneers, Timber Line Tree Service, Iowa State Savings Bank, Ostrich Racing Engines, Windance Graphics, FK Rod Ends, Hooker Harness, MyRacePass, Sweet Manufacturing, Keizer Aluminum Wheels, Fragola Performance Systems, Hoosier Tire, MPD Racing, Bell Helmets, Sign Pro of Newton, Shell Shock, Maxim Chassis, Hinchman Racewear, Knoxville Raceway Charitable Organization (KRCO) and Allen Construction for their continued support.
INSIDE LINE PROMOTIONS –
Inside Line Promotions specializes in affordable public relations and media management for motor sports drivers, teams, sponsors, tracks, series, events, organizations and manufacturers. ILP Founder Shawn Miller leverages professional journalism with new media technologies and social networking to improve your exposure and the return on investment for your sponsors.
To meet the media relations needs of your program by joining Team ILP, contact Shawn at 541-510-3663 or Shawn@InsideLinePromotions.com. For more information on Inside Line Promotions, visit http://www.InsideLinePromotions.com.
---
Article Credit: Inside Line Promotions
Submitted By: Shawn Miller
Back to News