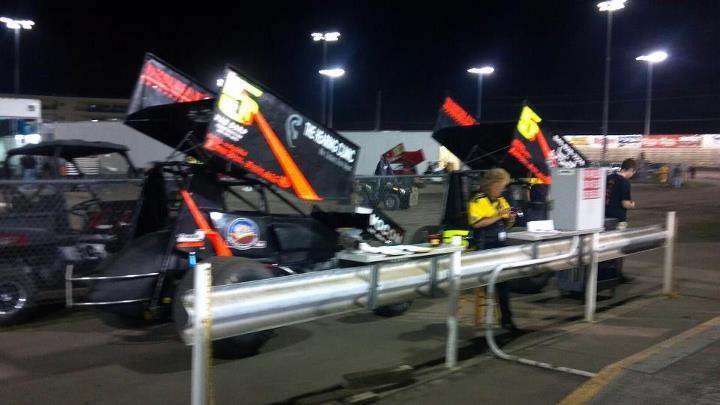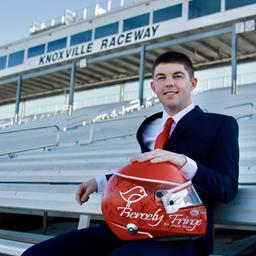 ---
WLM Take both 305 & 360 A-Features
Knoxville Crowns 2012 TracK Champions in final Sprints of the Year
Sunday, September 02, 2012 By Bob Wilson
KNOXVILLE, Ia (September 1) – Knoxville Raceway crowned three new champions during its 59th annual Lucas Oil Cup Series Season Championships. Terry McCarl, Des Moines, IA was a narrow winner in the 410 division and wrapped up his 7th title, one less than the all-time record held by Danny Lasoski. Clint Garner, Sioux Falls, SD claimed his fourth 360 championship while Matthew Stelzer, Omaha, NE was crowned as the top dog in the 305 class.
The 410 feature saw Davey Heskin win his third feature of the season in capturing the 25-lap season finale for that division. Heskin led the distance while riding the bottom of the track and gained a payday of $3,500. A battle raged behind him for the runner-up spot as first Joey Moughan then Justin Henderson and finally Bronson Maeschen held that spot. Finishing in third was Henderson and Mark Dobmeier took fourth after making a lap 19 pass of McCarl. McCarl held that spot to the finish in the fifth spot which was good enough to give him the 2012 track title. Rounding out the top ten were Dusty Zomer, Moughan, Josh Schneiderman, Don Droud Jr. and Ryan Bunton.
In the 360 feature event 2012 track champion Clint Garner roared out to the lead after gaining that spot on lap four and looked to be on his way to a win. Suddenly from the fourth row substitute driver Dusty Zomer roared into contention after a number of yellow flag events slowed the opening laps. Just after the half-way point he made a pass of second place Randy Martin who had just taken that spot from Ryan Anderson who went up in smoke exiting the race at that point. Two laps later Zomer made a pass of leader Garner as they exited turn two. Zomer then went on to claim the $1,500-to-win event and only his second feature event win in that division.
Winning the 305 season finale was Larry Ball Jr. He overtook race leader Bart Friedrichsen on a lap nine restart. Trailing him to the finish line was Friedrichsen, Mathew Stelzer, Mike Van Haaften and Matt Stevenson. The win paid Ball $600.
KNOXVILLE RACEWAY, Knoxville, IA
September 1, 2012
410 RESULTS
Time Trial , 1 laps, 1. 24, Terry McCarl, Altoona, IA (4), 14.998; 2. 82, Justin Henderson, Sioux Falls, SD (3), 15.11; 3. 47, Don Droud Jr., Lincoln, NE (21), 15.197; 4. 96, Bronson Maeschen, Pleasantville, IA (15), 15.234; 5. 56, Davey Heskin, St. Michael, MN (10), 15.262; 6. 7s, Joey Moughan, Springfield, Il (14), 15.262; 7. 91, Dusty Zomer, Sioux Falls, SD (19), 15.318; 8. 13, Mark Dobmeier, Grand Forks, ND (22), 15.318; 9. 12, Lynton Jeffrey, Sydney, NSW, Aust. (6), 15.331; 10. 7TAZ, Tasker Phillips, Pleasantville, IA (5), 15.4; 11. 66, Geoff Dodge, Speedway, IN (8), 15.416; 12. 20, AJ Moeller, Rockwell City, IA (12), 15.416; 13. 17A, Austin McCarl, Altoona, IA (7), 15.444; 14. 49, Josh Schneiderman, West Burlington, IA (9), 15.473; 15. 6R, Ryan Bunton, Morton, IL (20), 15.476; 16. 75, Glen Saville, Razorback, NSW, Aust (18), 15.638; 17. 7k, Rob Kubli, Milo, IA (13), 15.679; 18. 7, Dustin Selvage, Indianola, IA (23), 15.7; 19. 88, Jarrod Schneiderman, West Burlington, IA (2), 15.705; 20. 55, Ian Madsen, St. Marys, NSW, Aust (17), 15.757; 21. 71, Robert Bell, Colfax, IA (11), 16.223; 22. 13G, Garrett Dollansky, Elk River, MN (1), No Time; 23. 12P, TJ Peterson, Des Moines, IA (16), No Time;
Heat 1, 8 laps, No Time: 1. Terry McCarl (6); 2. Bronson Maeschen (5); 3. Austin McCarl (2); 4. Tasker Phillips (3); 5. Dusty Zomer (4); 6. Jarrod Schneiderman (7); 7. Glen Saville (1);
Heat 2, 8 laps, 2:08.55: 1. Josh Schneiderman (2); 2. Rob Kubli (1); 3. Mark Dobmeier (4); 4. Justin Henderson (6); 5. Davey Heskin (5); 6. Geoff Dodge (3); 7. Ian Madsen (7);
Heat 3, 8 laps, 2:13.88: 1. Ryan Bunton (2); 2. Don Droud Jr. (6); 3. Joey Moughan (5); 4. Dustin Selvage (1); 5. AJ Moeller (3); 6. Robert Bell (7);
A Feature 1, 25 laps, No Time: 1. Davey Heskin (2); 2. Bronson Maeschen (3); 3. Justin Henderson (5); 4. Mark Dobmeier (8); 5. Terry McCarl (6); 6. Dusty Zomer (7); 7. Joey Moughan (1); 8. Josh Schneiderman (13); 9. Don Droud Jr. (4); 10. Ryan Bunton (14); 11. Austin McCarl (12); 12. Ian Madsen (21); 13. Jarrod Schneiderman (17); 14. AJ Moeller (11); 15. Geoff Dodge (10); 16. Tasker Phillips (9); 17. Dustin Selvage (16); 18. Rob Kubli (15); 19. Robert Bell (18); Lap Leaders: Heskin 1-25
360 RESULTS
Time Trial 1, 1 laps, 1. 5J, Dusty Zomer, Sioux Falls, SD (2), 16.06; 2. 14, Randy Martin, California, MO (9), 16.219; 3. 3, Nate Van Haaften, Otley, IA (3), 16.238; 4. 2m, Matt Moro, Polk City, IA (13), 16.275; 5. 71, RJ Johnson, Tampa, FL (8), 16.295; 6. 40, Clint Garner, Sioux Falls, SD (10), 16.302; 7. 71R, Ryan Anderson, Deloit, IA (18), 16.326; 8. 51, David Hall, Des Moines, IA (15), 16.337; 9. 54, Casey Friedrichsen, Arthur, IA (20), 16.356; 10. 53, Joe Beaver, Knoxville, IA (11), 16.366; 11. 4, Jon Agan, Knoxville, IA (14), 16.369; 12. 10I, Dennis Moore Jr., Grinnell, IA (5), 16.412; 13. 97, Carson McCarl, Altoona, IA (17), 16.413; 14. 45c, Russ Hall, Pleasant Hill, IA (1), 16.461; 15. 47T, Tony Shilling, Knoxville, IA (21), 16.513; 16. 8L, Tom Lenz, Marion, IA (12), 16.677; 17. 7H, John Hall, Marion, IA (7), 16.698; 18. 9, Rager Phillips, Pleasantville, IA (16), 16.882; 19. 33, Alan Zoutte, Knoxville, IA (4), 16.936; 20. 7, Tanner Edwards, Van Meter, IA (6), 17.5; 21. 10, Alan Ambers, Knoxville, IA (19), 17.625;
Heat 1, 7 laps, 1:57.31: 1. Ryan Anderson (4); 2. Tom Lenz (1); 3. Carson McCarl (2); 4. Joe Beaver (3); 5. Dusty Zomer (6); 6. Matt Moro (5); 7. Alan Zoutte (7);
Heat 2, 7 laps, 1:57.88: 1. Jon Agan (3); 2. Russ Hall (2); 3. John Hall (1); 4. RJ Johnson (5); 5. Randy Martin (6); 6. David Hall (4); 7. Tanner Edwards (7);
Heat 3, 7 laps, 1:57.39: 1. Dennis Moore Jr. (3); 2. Rager Phillips (1); 3. Clint Garner (5); 4. Tony Shilling (2); 5. Nate Van Haaften (6); 6. Casey Friedrichsen (4); 7. Alan Ambers (7);
A Feature , 20 laps, No Time: 1. Dusty Zomer (8); 2. RJ Johnson (4); 3. Clint Garner (3); 4. Matt Moro (5); 5. Rager Phillips (18); 6. Joe Beaver (10); 7. Jon Agan (11); 8. Carson McCarl (13); 9. Tony Shilling (15); 10. Casey Friedrichsen (9); 11. Russ Hall (14); 12. Tom Lenz (16); 13. Dennis Moore Jr. (12); 14. Alan Zoutte (19); 15. Tanner Edwards (20); 16. Randy Martin (7); 17. Nate Van Haaften (6); 18. Ryan Anderson (2); 19. David Hall (1); 20. Alan Ambers (21); 21. John Hall (17); Lap Leaders: D. Hall 1; Garner 2-13; Zomer 14-20
305 RESULTS
Time Trial , 1 laps, 1. 6, Mitchell Alexander, Knoxville, IA (21), 16.953; 2. 5J, Larry Ball Jr., Knoxville, IA (5), 17.198; 3. 99, Matthew Stelzer, Omaha, NE (11), 17.245; 4. 0, Mike Mayberry, Fremont, IA (22), 17.255; 5. 33, Mike Van Haaften, Pella, IA (8), 17.403; 6. 55, Matt Stephenson, Altoona, IA (12), 17.456; 7. 29, Bart Friedrichsen, Arthur, IA (2), 17.46; 8. 7W, Mark Widmar, Ottumwa, IA (18), 17.472; 9. R99, Nick Ross, Oskaloosa, IA (4), 17.565; 10. 93A, Alan Ambers, Knoxville, IA (10), 17.581; 11. 1T, Jake Strayer, Newton, IA (1), 17.94; 12. 71C, Andrew Shelton, Lacona, IA (7), 17.942; 13. 9, Chad Goff, Spring Hill, KS (16), 18.189; 14. 4c, Chris Horton, Indianola, IA (13), 18.221; 15. 92c, Cody Ambers, Knoxville, IA (20), 18.239; 16. 85, Chase Wanner, Agency, IA (9), 18.327; 17. 19, Bob Weuve, Newton, IA (3), 18.329; 18. 55kc, Bob Hildreth, Iowa Falls, IA (14), 18.34; 19. 88, J Kinder, Holts Summit, MO (6), 18.858; 20. 91, Curtis Thorson, Newton, IA (15), No Time; 21. 19K, Sarena Paul, Monroe, IA (17), No Time; 22. 4, Dakota Hendrickson, Omaha, NE (19), No Time;
Heat 1, 6 laps, 1:45.31: 1. Bart Friedrichsen (2); 2. Mitchell Alexander (4); 3. Mike Mayberry (3); 4. Alan Ambers (1); 5. J Kinder (7); 6. Chase Wanner (6);
Heat 2, 6 laps, No Time: 1. Larry Ball Jr. (4); 2. Mark Widmar (2); 3. Mike Van Haaften (3); 4. Dakota Hendrickson (8); 5. Jake Strayer (1); 6. Chris Horton (5);
Heat 3, 6 laps, 1:43.48: 1. Matthew Stelzer (4); 2. Matt Stephenson (3); 3. Andrew Shelton (1); 4. Nick Ross (2); 5. Cody Ambers (5); 6. Bob Hildreth (6); 7. Sarena Paul (7);
A Feature , 15 laps, No Time: 1. Larry Ball Jr. (7); 2. Bart Friedrichsen (2); 3. Matthew Stelzer (6); 4. Mike Van Haaften (4); 5. Matt Stephenson (3); 6. Mark Widmar (1); 7. Dakota Hendrickson (20); 8. Alan Ambers (10); 9. Chris Horton (14); 10. Nick Ross (9); 11. Andrew Shelton (12); 12. J Kinder (19); 13. Mike Mayberry (5); 14. Cody Ambers (15); 15. Mitchell Alexander (8); 16. Chase Wanner (16); 17. Bob Hildreth (18); 18. Jake Strayer (11); 19. Curtis Thorson (22); 20. Bob Weuve (17); Lap Leaders: Widmar 1; Friedrichsen 2-9; Ball 10-15
Back to News