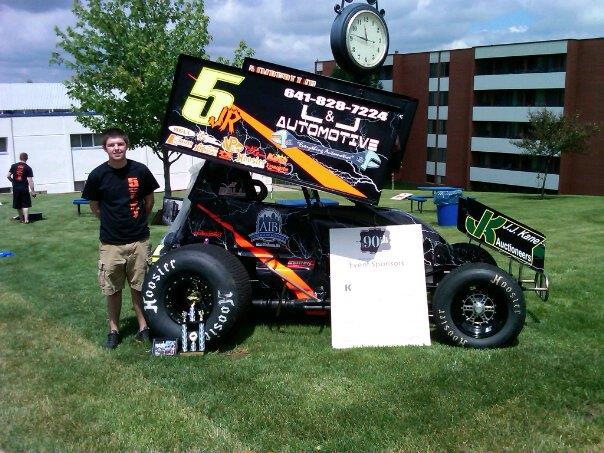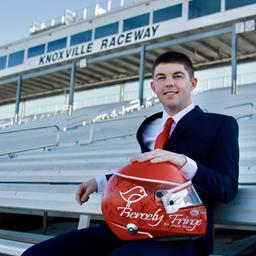 ---
Jamie Ball- Midseason Championship
Jamie Ball- Midseason Championship
6/18/2011
(White Lightning Motorsports) –
This week the L & J Automotive #5Jr would race on Saturday at the Knoxville Raceway in the 305 division. This would be point race number four on the year. I would go into the night leading Carson McCarl by 24 points.
The night would start off with group qualifying. I would go out in the second set and would struggle to find the speed that I normally find with ease. I would end up tenth overall in timing. Not the result we were looking for so we would go back and make some changes between qualifying and the heat race.
There would be three heat races with an invert of four. This would mean that my timing spot (p10) would line me up on the pole of heat race one. I would take the green and lead all of the laps in dominating fashion. No other drivers would challenge and I would go on the heat one win.
Just as the previous week I would time tenth and the invert would be a ten. This would line me up on the pole of the A-Feature. I was really excited and confident about this starting spot because the last time I got to start on the pole was in only my second race in 2009. The green would fly and I would take off to the early lead, racing the bottom just like I did in my heat race. On lap five #66 of Travis Cram would run over some debris and flip in turn three. This would result in a red flag for the carnage. On the restart I would try to cover the bottom way too much and the #7TAZ would be able to skim around the outside of my car using the middle line. We would drag race off turn two down the backstretch with both of us giving it our all to intimidate the other. Going into turn three Tasker would take the lead and I would miss the bottom after having to let off so that I wouldn't crash, when I did that #97 Carson McCarl slip by me as well. I had six more laps to try and retake over the top spot. I would give it my all and come up short finishing in third place. Carson McCarl would go onto his second win of the season, my team and would like to congratulate him and his team on a job well done. After watching the race tapes I pin the blame solely on myself. I simply over drove the race car and missed the bottom lap after lap; it wasn't that my car set up changed after the red flag or getting passed. I just need to keep my composure and race my race. The thing I will be taking from this week is to keep cool under pressure. Being able to learn something every time I hit the track is one of my goals and I think that this specific lesson will be the most helpful in the future. I just want to thank my guys for being behind me and supporting me even when we don't win. We were still able to hold the point lead at the end of the night by a mere 6 points over #97 of Carson McCarl.
The next time that White Lightning Motorsports plans to race is on Saturday June 25th in the 305 class. It would be really cool to win on the 25th as it is my Mom's birthday. That would be a great gift for her. Keep an eye on my progress this week and beyond at www.jamieball.com?If you would like to receive the weekly releases, send an email with the subject line "Jamie" to jamie@jamieball.com
White Lightning Motorsports would like to thank L & J Automotive, L & J Enterprise Inc., AIB College of Business, Timber Line Tree Service, JJ Kane Auctioneers, Sweet Manufacturing, Iowa State Savings Bank, Fragola Performance Systems, VP Racing Fuels, Bell Helmets, Keizer Wheels, Driver Websites, Vortex Wings, Hoosier Racing Tire, DMI, King Racing Products, BR Motorsports, Wilwood Brakes, and all other family and friends for their support.
Back to News